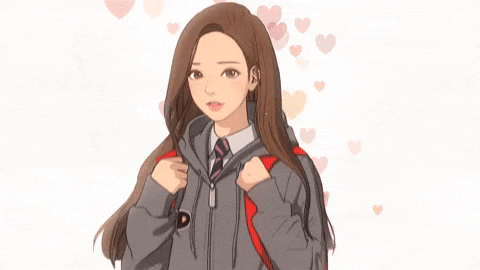 True Beauty is a popular Korean Drama that is based on the Webtoon series of the same name by Yaongyi. Its story centers around a high school student named who is bullied by everyone for her looks. She's inspired by beauty gurus online to wear makeup to hide how she looks. By the time she transfers out of her old school, she is able to wear makeup professionally to the point where she looks like a model. Even the neighbors start to think her mother has three daughters instead of two. True Beauty also has an irresistible love triangle. Whether you're Team Suho or Team Seojun, these are the book recommendations for you! While you're waiting for another episode of True Beauty to air with English subtitles, I recommend checking these books out!
The Upside of Unrequited by Becky Albertalli
How it's similar to True Beauty: Molly doesn't see herself as beautiful-similar to how Jugyeong Lim feels in True Beauty. The difference is that this book, it talks more about body positivity and the love triangle is great in this one as well. Will and Reid are different from Suho and Seojun but I love how this book shows the ups and downs of teenage romance.  It's great because this takes place in the Maryland-DC-VA area and it's in the Simon Spier universe!
There's Something About Sweetie by Sandhya Menon
There's Something About Sweetie by Sandhya Menon
How it's similar to True Beauty: Sweetie has always been described as fat by everyone around. her. Her relationship with her Ammi (Mom in Bangla) is about as rocky as the relationship Jugyeong Lim has with her mom. But, Sweetie isn't lazy and she's the fastest person on her track team. If you're Team Suho, you're going to love Ashish and Sweetie's story.
Odd One Out by Nic Stone
How it's similar to True Beauty: The love triangle. It's a book about how friendship and love make things complicated. Courtney or as he's usually known as "Coop" is similar to Suho and I would say that Rae kind of reminds me of Seojun. This book doesn't tackle beauty or looks like True Beauty does. Instead, it focuses more on how sexual identities and desires go hand in hand. This is a topic that more YA books need to discuss!
I'll be the One by Lyla Lee
How it's similar to True Beauty: Sky Shin has always been told that fat girls shouldn't dance. I love how she comes out of her shell and breaks stereotypes of what it means to be a K-Pop star. Skye wants to show society how wrong they are for their intense beauty standards. It's the perfect mix of True Beauty and Shine by Jessica Jung; but with its own spin on it.
Josh and Hazel's Guide to Not Dating by Christina Lauren
How it's similar to True Beauty: Hazel is similar to Jugyeong Lim in the sense that she is just as clumsy around her crushes. If you're Team Seojun, then you're going to want to read this book because Josh reminds me of Seojun. These two set each other up on dates which also reminds me of something Chuck and Blair did in Gossip Girl.
True Beauty's coming to an end this week, but these books will help with the True Beauty withdrawal feels!
Did you read any of these books? Comment which ones are your favorite or ones you're excited to read about!